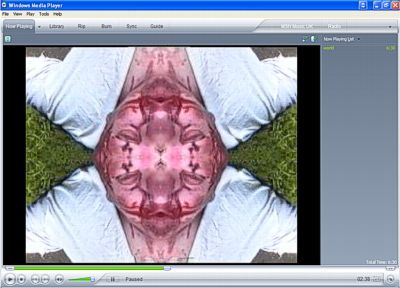 Exclusive Island
Video First!
FUNNY OLD WORLD [25 MB]
A cover of the infinitely superior Capo Regime song.
This video exclusive is the first ever full music video by a band from the Isle of Wight to be published on the Web in its entirety, thus becoming a World-wide, Island-shattering Song Video First.
As yet, no Island band has published a full song video over the Internet and Revenge of the Lawn lay claim to the title of First Island Band Internet Music Video. While we're on the subject of firsts, the band also claim the title to First Island Band to Use the Words "inflated pig's bladder football" in a Song. In fact Revenge of the Lawn would like it known that they have filed a patent claim for the use of the above words in any pop song (thereby notching up another first by becoming the First Island Band to Obtain a British Patent.)
Incidentally, under the terms of this patent, any band wishing to use the words "inflated pig's bladder football" in a song are required to pay a licence fee to Revenge of the Lawn unless they can prove, in an approved British court of law to the satisfaction of a magistrate, that their band falls under the category of folk, chamber or tea dance. All other types of music such as rock 'n' roll, techno, rave, rap, country, jazz, classical, music-hall, blues, etc. are constrained by the terms of the patent and will ONLY be authorised to use the said words on payment of 17€00 a year.
Enquiries and an application form can be obtained by e-mail to tg_menace@btinternet.com or by visiting their advice centre on the St. Mary's hospital site.
Why not make the world a better place
by voting on the Funny Old World video?

As soon as the results drop below 50 % grades A and B,
we take the damn video off the Internet. Simple!


The latest results have been slow in coming but here they are at last. They show that the rest of the world is clearly not impressed but this is more than countered by the positive votes sent in by our mums, aunties and those dubious, distant relatives who you've never really heard of before, but whom you are told is the cousin of the nephew of a great-great uncle whose grand-father was the illegitimate child of the second wife of a distant ancestor of yours. Thanks to all of our relatives whoever and whereever you are.


Don't rely on others.
Make your vote


count: