Beverley Knight's bodyguard's
Fan Page
Revenge of the Lawn have always been big fans of Ray the Bodyguard's work. Imagine our excitement when we heard that his employer, Beverley Knight, was going to be appearing at the Isle of Wight Pop festival in Newport ... well, we couldn't wait - it would mean that we would get to see Ray perform here on the Island. Unfortunately only one of our band had bought tickets for the festival, so we armed Prick-Ear with a camera and sent him to Seaclose Park under strict instructions to get some good shots of the rugged, handsome Ray, carrying out his security duties.
However, such was the slight crowd round Beverley, that he just could not get in close enough to get a good shot of Ray. There was always one of Beverley's fans getting in the way. And if it wasn't one of her fans obstructing the view of Ray, it was Beverley's great big smiling head getting in the way. It just wasn't Prick-Ear's day.
Eventually Prick-Ear had to press forward forcefully and firmly ask Beverley to move out of the way so that he could get a decent photo of Ray.
All you Ray fans will be pleased to hear that we did manage to get a good photo of Ray in full active bodyguard service [see below].

I went in a bit over-confidently and completely missed Ray.

Ray obscured by Beverley and fan no. 1.

Ray obscured by Beverley and fan no. 2 & 3.

Ray obscured by Beverley's head.

Ray obscured by Beverley's head ... AGAIN!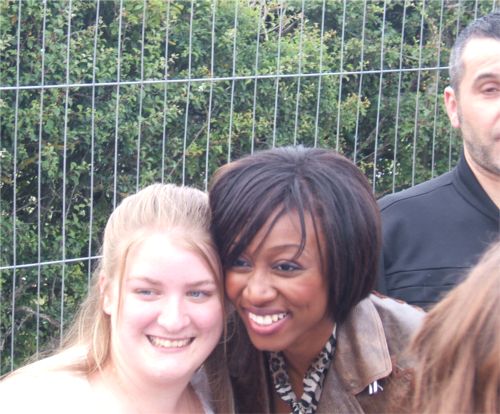 Eager fans jog me causing a semi-head cut-off for Ray.

Ray obscured by Beverley and fan no. 4.

On politely asking Beverley to move over so I can get a clear full frontal of Ray,
she finds my frustrated attempts to photograph Ray all very amusing.
However, she finally steps aside, when I show her a kitchen knife
and tell her I'll stick her like a pig if she don't shift herself.

I get a good shot of Ray (left) and his Assistant Trainee Bodyguard.

Finally, after ensuring Beverley is out of the way,
a full clear shot of Ray.
Hooray!
Revisit this site for further fan pictures of Ray the Bodyguard.
Ray the Bodyguard is great
but Beverley Knight is quite good too.